Easy Online Reservations
It's easy to check availability and to make a reservation! Just click the "Start Here" button to view our available bins for trash removal. Please contact us with any questions!
20 Yard Household Dumpster Rental

$479
Haul It A Day
Best for household cleanups, organizing, moving, downsizing, hoarding cleanup, trash, furniture, mattresses, estate cleanup, evictions, etc.

The 20-yard dumpster is ideal for garage/attic cleanouts, basement cleanouts, apartment cleanouts, and other projects of similar size. Tall sidewalls make it easier to stack furniture and maximize your space. Double Barn doors make it easy to load. Because you are packing it, instead of loading it, you will fit more into the same space.

Covered option now available. Please call to check availability.

Includes:
-Up to 7 Day Rental
-1.5 Tons of Material

11 feet long x 8 feet wide x 6 feet tall
Book Online Now
15 Yard Rolloff Dumpster
$429

Best for remodels and construction
Sheetrock, wood, carpet, cabinets, etc.

The 15-yard dumpster is large enough to accommodate projects similar to kitchen remodels and entire bathroom renovations.

Includes:
-Up to 7 Day Rental
-1.25 Tons of Material

11 feet long x 8 feet wide x 4.5 feet tall
Book Online Now
10 Yard Construction Dumpster
$389
Ceramic tile, roofing, concrete, dirt, etc.
Note: heavy items such as concrete are limited to 4 yards. We will mark the bin so you know where to stop.
The 10-yard dumpster is good for very small household cleanup projects. It is best for small remodel projects with heavy items such as a bathroom remodel or small kitchen remodel.


Includes:
-Up to 7 Day Rental Period
-1 Ton of Material

10 feet long x 7 feet wide x 4 feet tall
Book Online Now
Waste removal pros
for Minneapolis & Saint Paul
We're the little dumpster drivers with the right sized dumpsters for your project. We deliver 10-yard, 15-yard, and 20-yard bins which are dramatically smaller than the big barges you usually see taking up 3 and 4 parking spots in the street. When you Right Size your dumpster with Haul It A Day you can have your dumpster parked in your alley, street or garage (which tends to irritate your neighbors less).

Plus, our trucks are much smaller than those big tandem-axle cows you typically see roaring all over town. Our trucks are stocky, Super Duty pickups designed to get in and out of tight spots the big guys wouldn't dream of and we're so light on our axles, it's like we weren't even there. You see, we didn't come from the Big-Is-Better waste hauler crowd. We were built around the Less-Is-More model. We were designed to be a lightweight, nimble alternative that's easy on the roadways and kind to the environment.
rEAL online reservations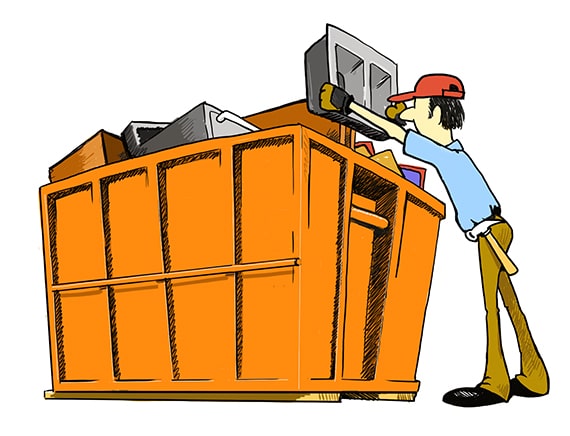 Dumpster Rentals in Minneapolis
From Haul It A Day
At Haul It a Day Inc., we have the reliable and affordable online dumpster rentals you need to simplify the waste management process for your next project. With multiple roll-off dumpster sizes to choose from, you can rest assured that we have the right size container for your next project, no matter how big or how small. See if your next project is in our service area! Our bins are perfect for homeowners, business owners, and contractors alike. We're a local dumpster company that's dedicated to streamlining the dumpster rental process, making it simple and easy for the Twin Cities to get the containers they need when they need them.

Dumpster rentals from Haul it a Day Inc. are the ideal waste management solution for all kinds of residential, construction, and commercial projects. From home renovations, remodels, and cleanouts to large-scale construction projects and landscaping jobs, our durable bins will stand up to whatever you toss their way. Our team of professionals is committed to delivering your bin on time and in a safe, convenient location. We pay special attention to details to ensure that your property remains damage-free in the process. Give us a call or use our online reservation system to book your dumpster today
Get Quote or Book Online Now
Why Rent a Dumpster From Us?
Renting a dumpster is an integral part of any large project. After all, you need a reliable place to dispose of your junk without dealing with the hassle of trying to haul it away yourself. When you choose cheap dumpster rental in in Minneapolis with us, we make the entire process simple. We understand that you're busy and you need your project to move forward on schedule, so we do our part to make that happen. Between our convenient online reservation system that's available to you 24/7 and our comprehensive customer service, you can guarantee that we'll never leave you hanging.

Our hook-lift bins are the ideal solution for waste and debris of all kinds. Not sure which size to rent for your project? Get in touch with our knowledgeable team. We're here to make the process simple and that includes providing our expert advice. Renting a bin from Haul it a Day Inc. is the simplest and easiest way to ensure you have a reliable dumpster rental safely delivered on site at the start of your project. When your bin is full and the job is done, all you need to do is give us a call or send us a message and we'll be there promptly to take it away, disposing of your junk properly.
Use our secure online ordering system today to book the hook-lift dumpster you need

Our reservation system is available 24/7 so that you can book whenever you're ready. Here's how it works; select the dumpster size you need, add it to your cart, select your delivery date, provide us with billing and contact information, and click checkout. If you have any questions along the way, we invite you to reach out via phone, text, or email and one of our professional team members will be in touch promptly to answer any questions or address any concerns.

Easy Online Reservations
It's easy to check availability and to make a reservation! Just click the "Start Here" button to view our available bins for trash removal. Please contact us with any questions!
Proud to serve the following areas:

Anoka County
Hennepin County
Ramsey County
Washington County

We like to make sure the needs of our customers are met, so if the location of your next project is beyond our service area, please reach out and let us know. We will see what we can do to accommodate your plans and your wallet!

NOTE: Haul it a Day is licensed to transport solid waste in the 7 county Minneapolis/Saint Paul metro area. Delivery charges may be added based on distance from Blaine, MN.
Call Us Today!



Give us a call today to speak with a Haul it a Day Inc. dumpster rental specialist. Our straightforward rental process will make executing your next project or job so much simpler and more convenient. Get the hook-lift dumpster you need today, at a price you can afford, from a team you can trust.

Haul It a Day Inc.

855 Village Center Dr #351
North Oaks, MN 55127

651-615-4423

[email protected]